Finding bridesmaid dresses that your bridal party genuinely loves wearing might seem like an impossible feat, but with the right approach this doesn't have to be the case. To help you out, we've compiled a list of our top tips for choosing a dress that all your bridesmaids will be excited to wear…
Speak with your bridal party first
It's your wedding day, but it goes without saying that you want your bridesmaids to feel completely themselves from start to finish. So, before you head out to the bridal boutiques, it's a good idea to have a chat with your bridal party about what exactly you're looking for. If you have any visions or ideas in mind, let them know so you can get their opinions. For example, if someone doesn't feel comfortable showing cleavage, it's important to take note of this before you set your heart on a V-neck dress. Compromises might have to be made, but it's best to get this out of the way before the shopping commences so it doesn't leave space for any awkward conversations in the middle of the bridal boutique.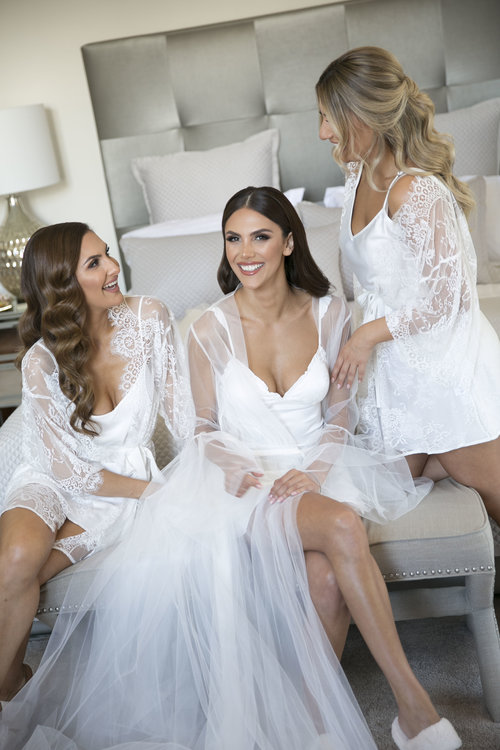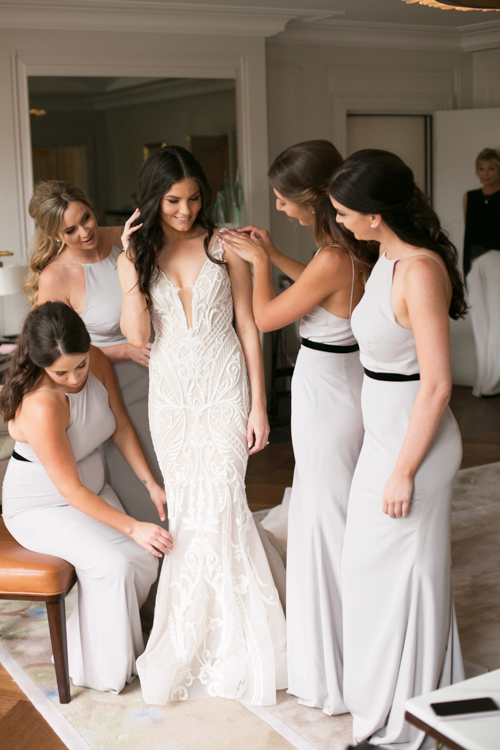 Don't be afraid to change it up
Traditionally, each bridesmaid wears an identical dress – but who says you need to be traditional? If your bridal party has different personal styles and you're not afraid to do things a bit differently, it can be a great idea to alter each dress to suit each individual bridesmaid. For example, one of your bridesmaids could wear an off-the-shoulder dress, another could sport a well-tailored jumpsuit while someone else walks down the aisle in a long maxi-design. By using the same colours and fabric throughout, you can tie all the looks together while still adding a touch of elegance and individuality to each outfit. Have a chat to your bridal party to find out what they would love to wear and go from there!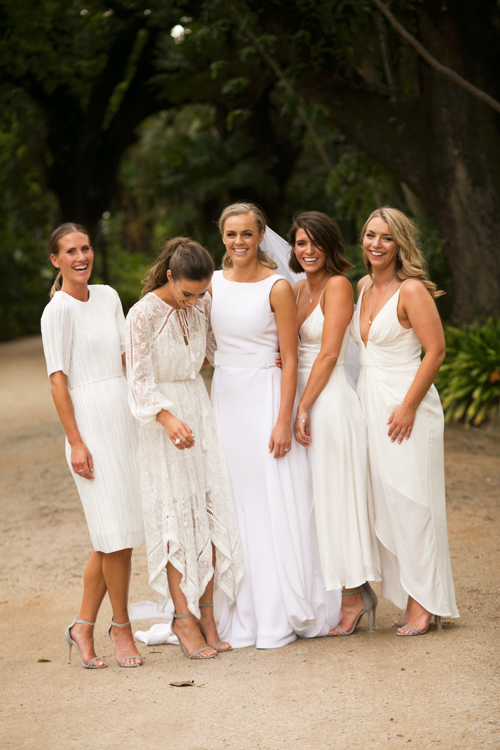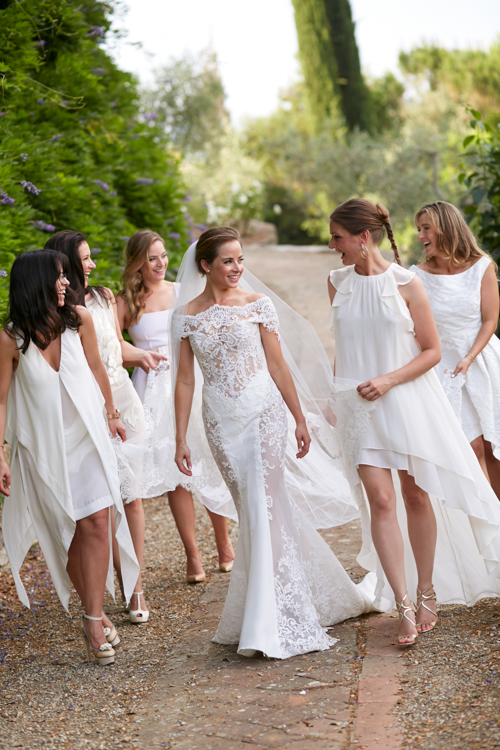 Don't ignore the price tag
It's not uncommon for bridesmaids to pay for their own dresses. But if you choose to go down this route, it's important to ask what price each person is comfortable with paying so you can come to a decision everyone is happy with. Finding a beautiful option that suits everyone's budget isn't impossible, but it often takes a bit more planning. After all, the last thing you want to do is spend all day shopping for bridesmaid dresses only to find that no one can afford the one you eventually fall in love with. Having a conversation about the ideal price range will allow you to decide which boutiques offer the best options for everyone's budget – meaning less stress for everyone involved!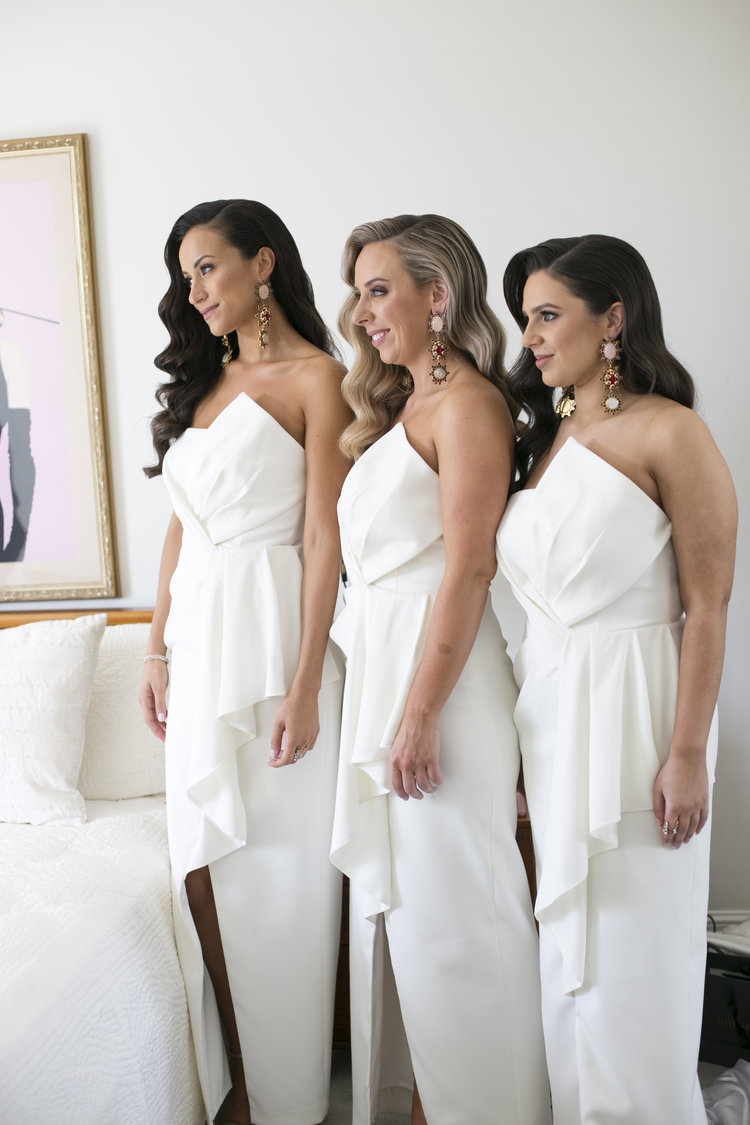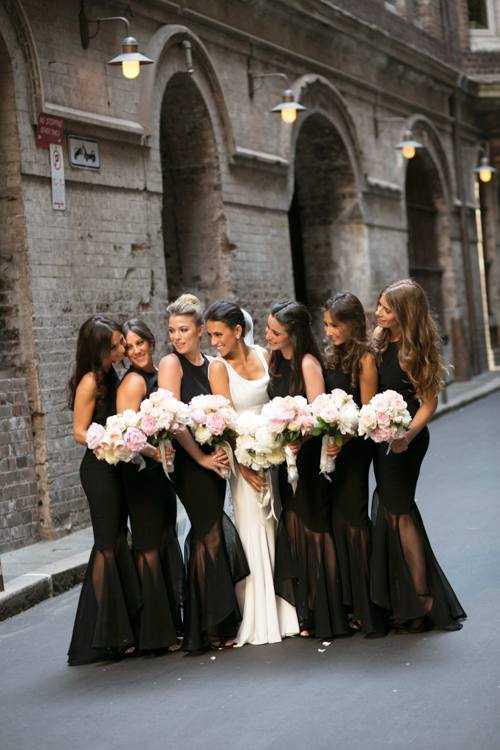 Consider the best colour for everyone
Choosing bridesmaid dresses that suit everyone's skin tone might not seem incredibly important at first, but it should be something you consider from the get go. Not only do you want your bridal party to feel completely comfortable and beautiful in their dresses, but you want them to show up perfectly in your professional photographs. Don't worry – this isn't as hard as it might seem. Colours like blush and a baby teal tend to look amazing on all skin tones, so if you have bridesmaids with olive, pale and dark skin this is a great option. Another important factor to consider is whether or not your bridal party will be getting a tan before the big day. Whether you're expecting them to head to the tanning salon or if they have a Hawaiian holiday planned, take into account how their skin tone may change and how the colours may look as a result.
Image Credits – Blumenthal Photography