Often brides look to runways for inspiration. A puffed sleeve here, a plunging neckline there, dissecting parts of hot off the runway trends and importing them into fashion-forward wedding dresses.
Much like life imitating art, bridal reflects high fashion – so we cast our eyes towards the runways of Paris, New York, Shanghai and beyond to unpack the latest trends in what brides are and will be wearing down the aisle. Let us inspire you beyond the classic princess, mermaid and A-line designs.
CO-ORDS
In the past bridal co-ords might have been seen as too alternative, but not anymore. Now – a two-piece set screams modern femininity. Two-pieces provide countless styling options. It brings flexibility both literally and physically. Brides can wear a tight form fitting skirt when walking down the aisle and then switch it out to a tulle version for the reception. Perfect for dancing. Whether it's a skirt plus top or a pants; you can experiment with fresh styling solutions.
WEDDING SUITS & BRIDAL SHORTS
If you're a contemporary bride to be then a suit may be on your radar. It's a sleek alternative to a dress and an ideal option for a city wedding. While we are unsure whether the bridal shorts will translate off the runway, we are enjoying seeing unexpected twists on tradition.
CAPING
A cape is not revolutionary in the bridal scene, but a well thought out cape can transform an entire look. Consider whisper-thin tulle or even a full-length option for maximum drama. Not only is this ideal protection from the elements if the ceremony is outside, it offers another layer of sophistication to the look. Go traditional in pure white or throw tradition to the wind and don a fur cape in pink or even charcoal grey.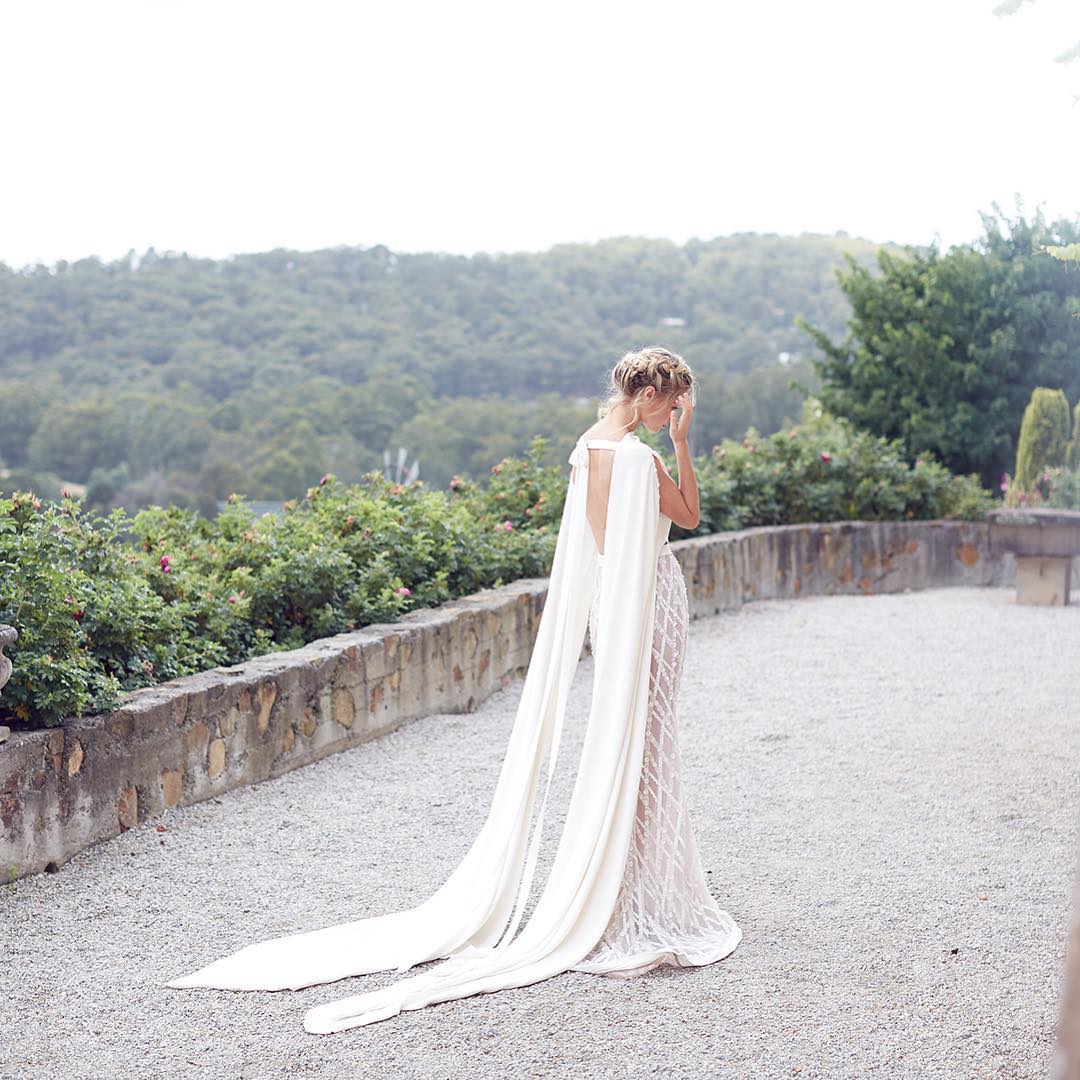 NON-WHITE
Blush and champagne have had their day too. Blue hues are the fashion-forward way of the future. We are loving steel blue and powder blue.
HEADBANDS
Hair accessories are trending exponentially at the moment, and bridal headbands are popping up more and more. Choose from naturally flawed pearls for an alternative hair accessory or opt for sparkling crystals for a glamourous elevated version (that you'll be able to wear again!).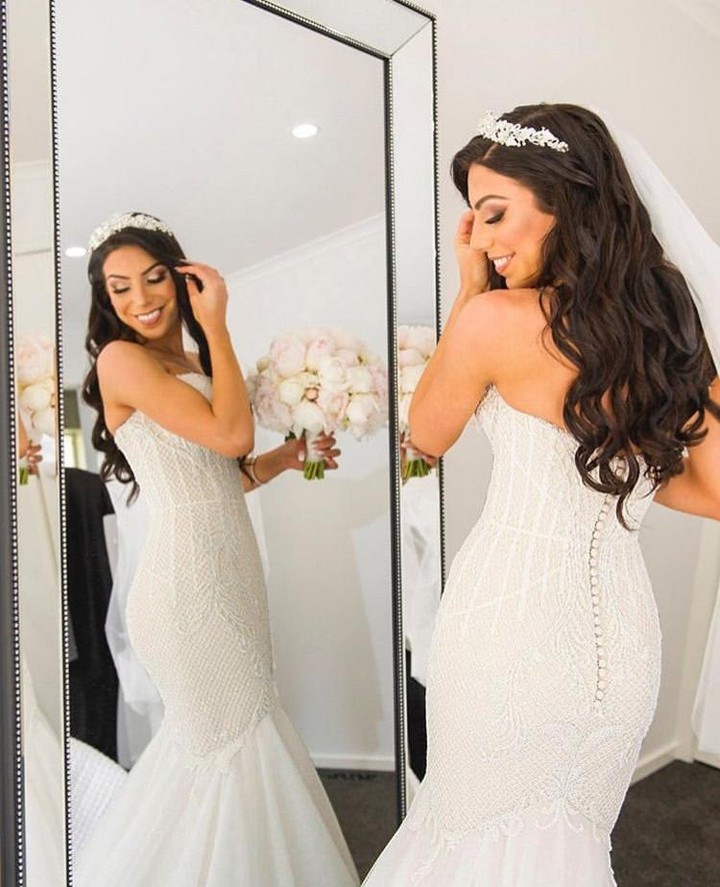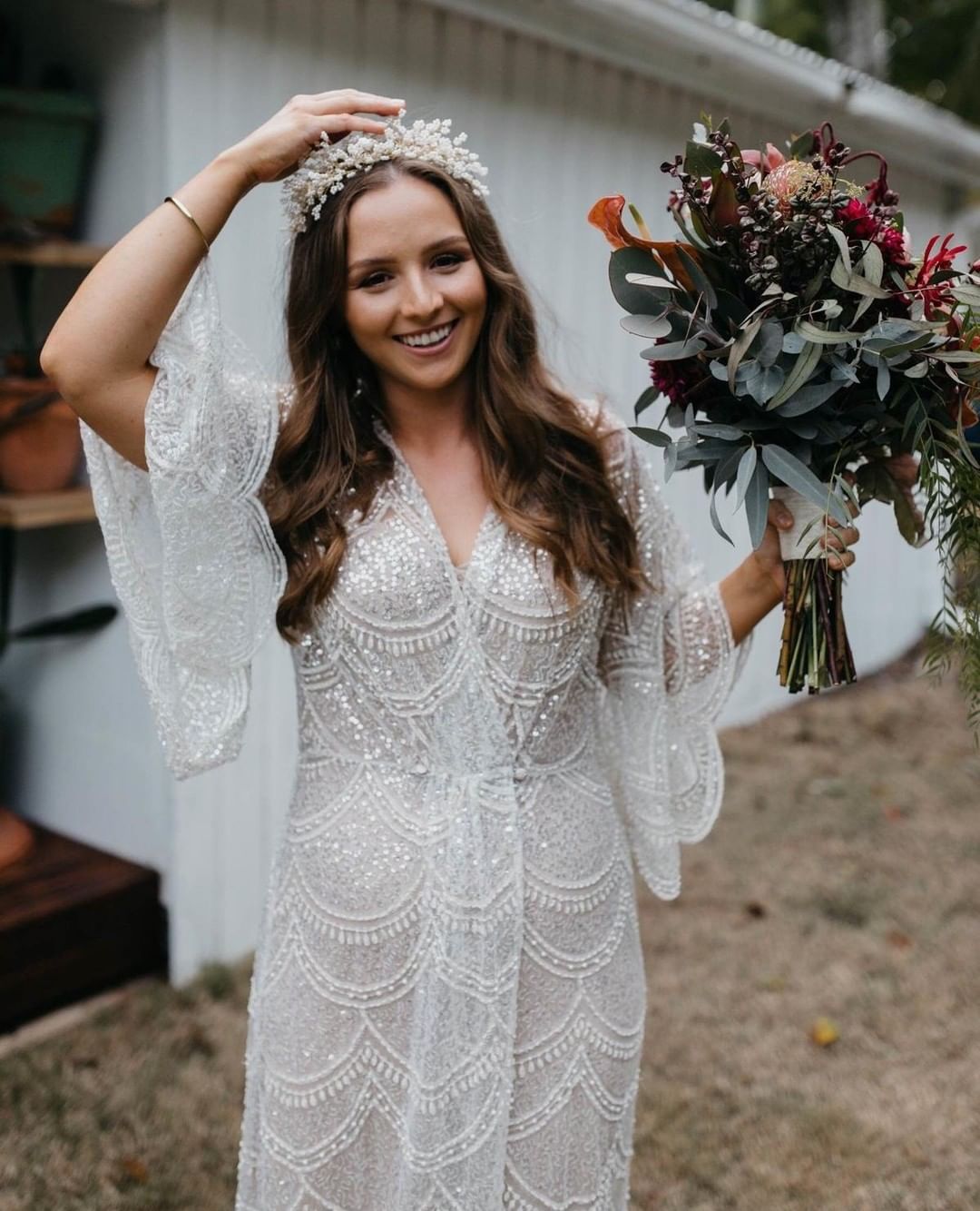 MODESTY
It's no secret that the modesty trend is prominent in both street-style and on the runway. It's traditional, ultra-romantic and an anti-skin-tight dress movement. Think high exaggerated necks, flamboyant sleeves and long royal trains.
STATEMENT SLEEVES
Sleeves are a trend all on their own. The more exaggerated the better. In a nod to the '70s, it doesn't matter the length or material. Be it puffed or flared, flouncy ballooning sleeves are a key trend now and in the future.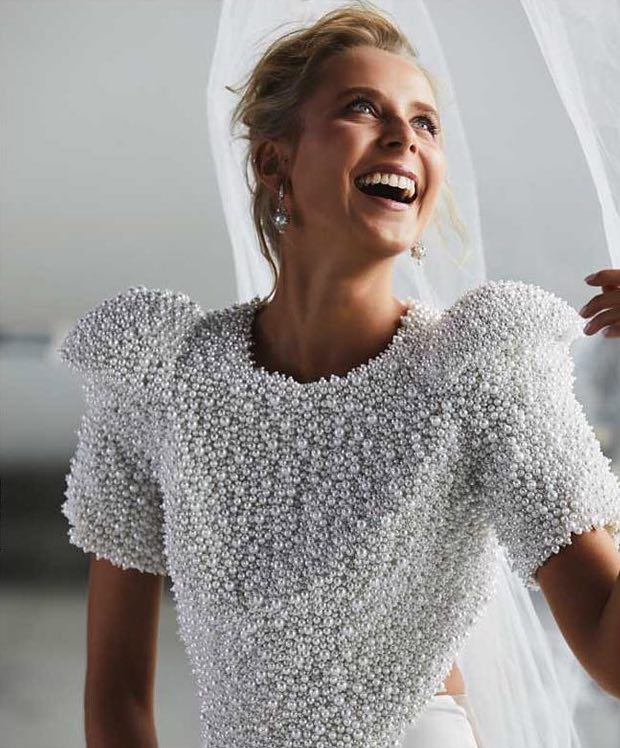 THE MEGHAN MARKLE ROYAL EFFECT
When it comes to it-girl nuptials it doesn't get more influential than Meghan Markle's. And from the wedding of the century blossomed the dress that inspired countless brides, even now over a year later. Minimal is the keyword of this trend. Fitted to perfection with clean lines, sleek silhouettes and flawless draping, the Meghan effect has flooded a fair amount of money into the wedding industry. Elegance personified.